Are you looking for a Modern Farmhouse House Plan, a home-made American plan, offering all the modern commodities sought after today's families? Discover our new and beautiful plan no. 2615-V1, inspired by our plan no. 2615, which offers a trendy look and is currently very popular.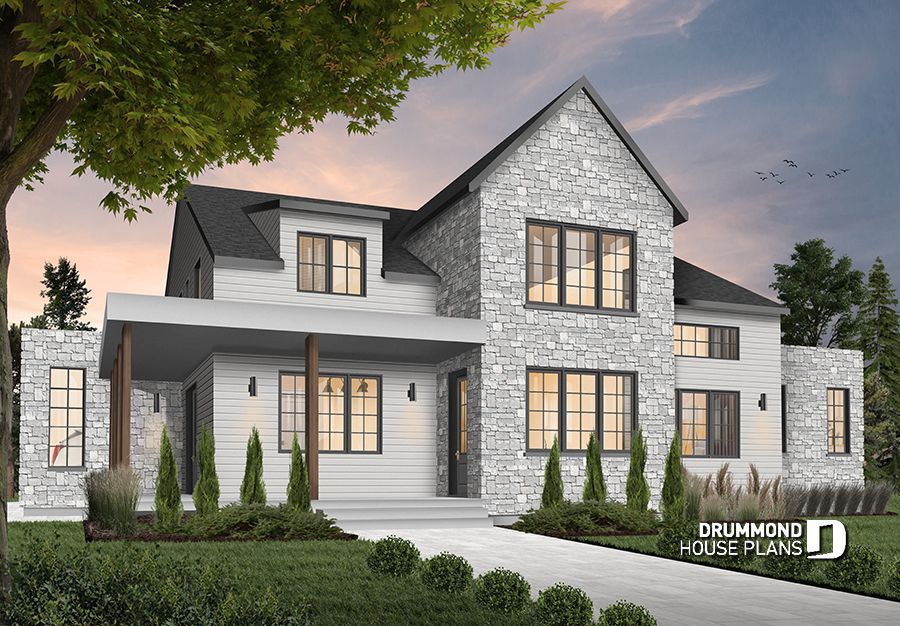 Our newest American house plan features an imposing stone structure on the front, as well as a horizontal cladding and color-framed windows.
We greatly appreciate the result of the combination of country and modern both by the choice of materials and the shape of the house. What do you think?
REAR VIEW – Modern American farmhouse house plan with large sheltered terrace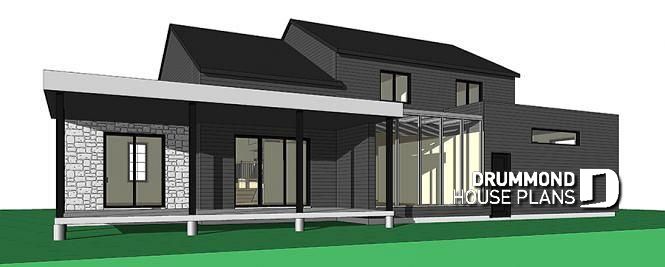 A beautiful and large sheltered terrace is accessible from the master bedroom and the living room. In addition, notice the beautiful natural light that floods the dining and kitchen area!
GROUND FLOOR: Parents' bedroom on the first floor!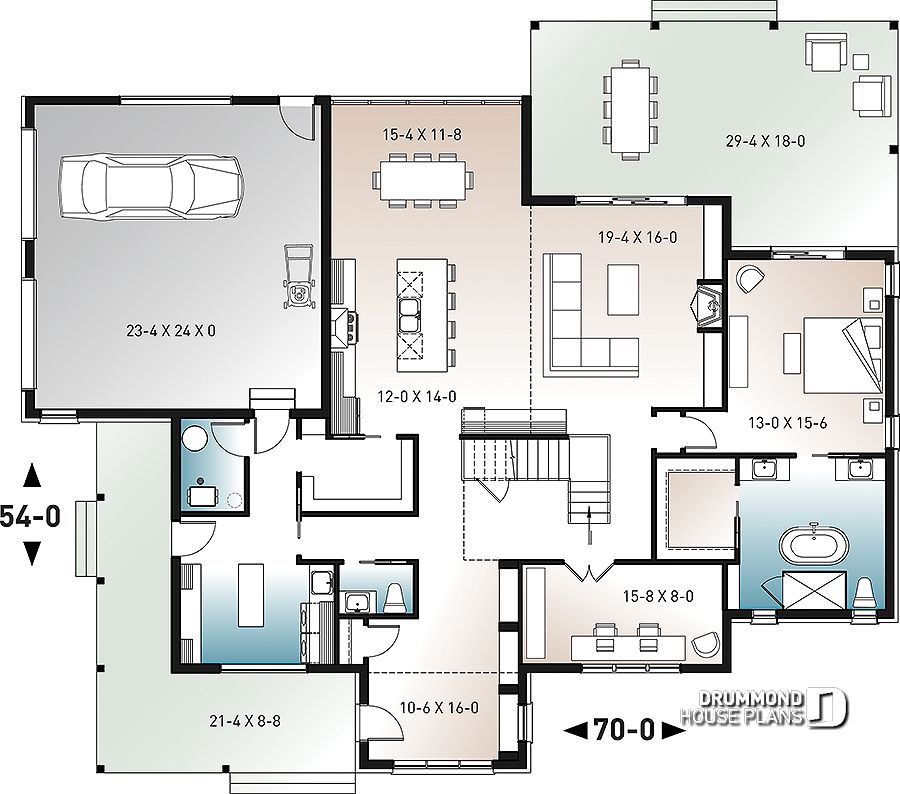 The sumptuous ground floor leaves nothing to chance. First of all, the entrance opens onto a built-in that allows for the installation of coat hooks on the wall and various storage (bins or others).
The large office can easily accommodate 2 workstations, and with a ceiling of over 14' could also become a nursery attached to the parents' room (something to ponder about!). The master bedroom, which offers a ceiling of 11' high has a private access to the large sheltered terrace at the back, as well as a magnificent private bathroom and a dream walk-in closet (ceiling at 14' height in the walk-in!).
The double garage is strategically located near the kitchen and pantry, allowing for quick storage of family goods and access to the laundry room. Closer to the kitchen is a large, or should I say very large laundry room.
The kitchen has an island that can easily accommodate 4 guests. Moreover, it is the focal point of the family area. The living room faces a fireplace with built-in furniture (bookcases and / or storage).
FLOOR: 3 bedrooms, 2 bathrooms and a library
The two largest children's rooms (or secondary rooms) share a common and private shower room. The third bedroom has access to a shower room, via the corridor. A reading corner or library is located near the 3 bedrooms and offers a view of the entrance on the ground floor via a mezzanine (see our plans with mezzanine here).
---