Inspired by Jennifer Larocque's original article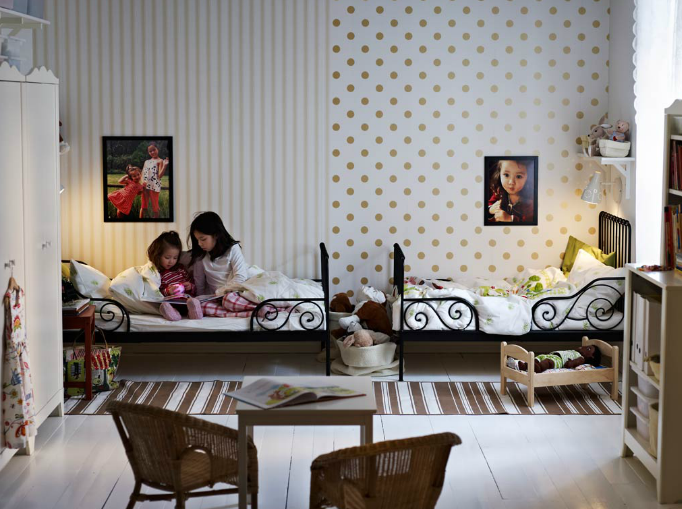 Step-families are a part of today's reality. With more and more half-brothers and half-sisters among the millions of children throughout, harmonious family life and housing blended families has become a major challenge for many.
Inside the home, the logistics of shared space is of utmost importance. As little as possible must be left to chance in order to maintain harmony within the shared space that answers to the occupants' needs.
Common living areas must take into consideration the diverse activities that will take place such as reading, talking, listening to music, playing games, and doing homework. Mealtime should ideally bring everyone together to share the day's events and build the bonds so crucial to a family unit.
Children need their own space in which to interact with each other on their own terms. Although it is not always possible to give each child a separate bedroom, the use of color can help to define each child's personal space.
 Here are a few house plans that may help you choose the best compromise between space requirements and budget concerns. Drummond House Plans has a
collection of models
which offer comfortable accommodations for today's larger families that have features such as an attached garage, home office or media room, a second family room, a minimum of two full bathrooms, a finished basement and more…
A BEAUTIFUL AND SPACIOUS CRAFTSMAN STYLE CHALET
For larger families, how about this craftsman style home that is the perfect place to enjoy family life in the country, on the lakefront or slope side.
This charming chalet offers 6 beautiful bedrooms, 4 of which are in the basement and 2 bathrooms with each a shower. There is a powder room on the main level and a full bathroom complete with a separate shower and double vanity to accommodate the two upstairs bedrooms.
Abundant fenestration, a large kitchen with central island along with a dining room that has enough space to seat 12 and a cathedral ceiling in the fireplace equipped family room enhance the livability of this home. The double entrances offer a large closet for the main foyer and enough room to store skis and sports accessories along with a washer and dryer at the other.
Another pleasing feature of this home is the second living room in the basement and the large covered terrace.
 A BUNGALOW WITH EUROPEAN STYLE


If you are looking for an original, 4 bedroom plan that offers abundant fenestration and the ability to fit on a narrow lot – look no further!
Outside, the striking curb appeal of this home is enhanced by the unique window style with its vertical orientation.
Once inside, the large family room is bright yet cozy with its central fire place and room for seating in whichever configuration suits your family's needs.
In the basement, the two 11'x10′ bedrooms, shower room, laundry area and bright, workshop/storage area are features that are sure to be appreciated by the occupants.
The main level offers a kitchen/dining/living area that is bathed in natural light along with a bathroom with separate shower and two good sized bedrooms with a walk-in closet in the master bedroom where a fireplace could be installed into the existing chimney.
CONTEMPORARY STYLE FOR THE NEW FAMILY
With contemporary style, this large home offers a much sought after look with 3-4 bedrooms and a split level design with a garage the fits a relatively narrow lot
This home has a rear orientation for the well fenestrated kitchen/dining/living room area with patio doors that open onto a beautiful 19′ x 10′ covered terrace.
Inspired by plan 3407 with its more European styling,  Aldana has a comfortable entrance foyer which includes a spacious closet and space for a home office. The large island in the kitchen and walk-in pantry are features that are sure to please and the fireplace built ins in the family area are extra touches that add a special feeling to this home.
Just 4 steps from the main level is a separate laundry area/powder room and the stairwell, open to the second floor, enhances the natural lighting and creates an open ambiance.
At the top of the stairs is a superbly appointed master suite complete with corner shower and walk-in closet. Two other bedrooms and a separate bathroom share the second floor and a full basement is ready to be finished to suit the owners' needs.
---