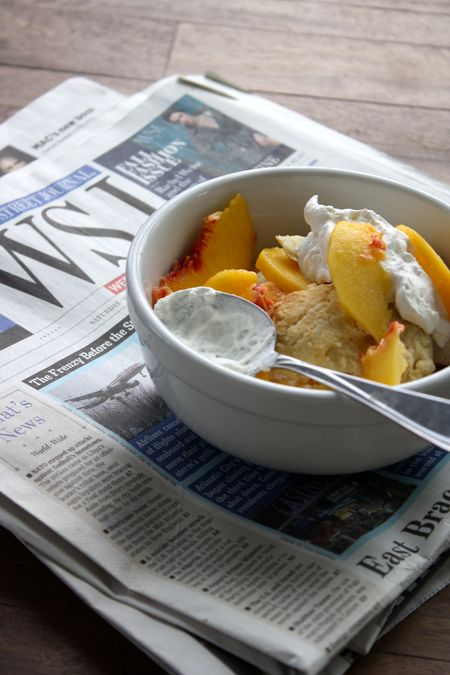 Fruit stands and backyard trees are bursting with luscious ripe peaches. While often reserved as a desert, why not try peach shortcake for a surprising breakfast or brunch. This Southern Peach Shortcake recipe is made even more special with cinnamon and toasted pecans. You can make your shortcake as a large, country-style dish or make individual portion biscuits.
•3 cups all-purpose flour
•1 tablespoon plus 1 teaspoon baking powder
•1 teaspoon salt
•1 teaspoon ground cinnamon
•1/2 cup light brown sugar, firmly packed
•3/4 cup butter
•1/2 cup coarsely chopped toasted pecans
•1 egg
•3/4 cup milk
•8 to 10 medium peaches, about 2 pounds peaches
•1 1/2 cups sugar
•1 cup heavy cream
•1/2 teaspoon almond or vanilla extract
Preparation:
Sift flour, baking powder, salt and cinnamon into a mixing bowl. Stir in brown sugar; cut in butter until mixture is crumbly. Stir in chopped pecans. In a cup or small bowl, whisk egg with milk. Add milk and egg mixture to dry mixture; stir with a fork until blended. Turn two round cake pans upside-down and grease bottoms. Spread half the dough on each bottom to within about 1/2-inch of edge. (or pat dough out and cut individual portions with a biscuit cutter – remember to handle the dough as little as possible and gently to ensure a flaky biscuit) Bake at 450° for about 20 minutes, or until golden.
Peel, slice and sweeten peaches with about 1 1/2 cups sugar or to taste. In a small bowl, whip cream with flavoring until stiff. Place one shortcake on a plate, top with about half of the peaches and whipped cream. Top with second shortcake and remaining peaches and whipped cream.
Let us know what your family thinks of this one!
---