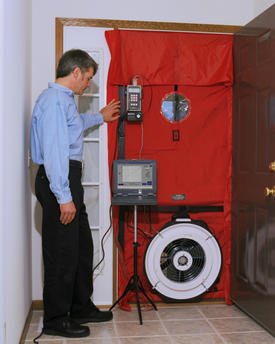 Leaky homes are hard to heat and hard to cool. The only way to know whether your home is leaky or tight is to measure its air leakage rate with a blower door. A blower door is a tool that depressurizes a house; this depressurization exaggerates the home's air leaks, making the leaks easier to measure and locate.
An energy-efficient house must be as airtight as possible. Many older U.S. homes are so leaky that a third to a half of the home's heat loss comes from air leaks.
There is no such thing as a house that is too tight. However, it's also true that there is no such a thing as an airtight house. Every house leaks, and that's why we perform blower-door tests — to measure a building's leakage rate.
Who needs a blower door?
Blower-door testing is useful for both new construction and existing homes. By testing a new home, a builder:
Can determine whether a certain airtightness target — for example, the Passivhaus airtightness standard — has been met;

Can document airtightness levels needed to qualify for certain home labeling programs, including Energy Star;

Can do a better job calculating heat loss and heat gain the next time he or she builds a similar house;

Can brag about the home's airtightness to prospective homebuyers or drinking buddies.