I love to hear about building material innovations. With that being said, I also tend to wait until the pros have had a chance to work with and evaluate the pros and cons of new materials. In 2010, a new tile substrate called Kerdi-Board from Schluter Systems was introduced to the North American market. This product may very well change the way ceramic, porcelain and stone tiles are installed, especially in high-moisture areas.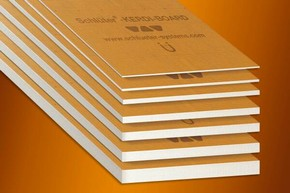 Kerdi-Board consists of a core of rigid structural foam sandwiched with a waterproof and felted membrane. When combined with the system adhesives, seam tapes and drain systems, potential water damage to the underlying structure is virtually eliminated. Available in thicknesses from 3/16" to 2", it cuts with a knife, is light in weight, impervious to water and insulative. The 2" thick Kerdi-Board can even be used to build partitions, benches and tub surrounds. It almost seems too good to be true and if it did not come from a company with a strong loyalty in the tilesetter world, I would be skeptical.
New materials only become mainstream when they boost installation efficiency and cut down on installation costs. A lot of DIY folks get sticker shock when they see the price of Schluter products but the pros know that they can be confident with their installation and long-term performance. The product is light, strong, cuts quietly and dustlessly, prevents movement of water and water vapour and provides thermal insulation (great for steam showers).
At this time, I could not find Kerdi-Board in any of the big box stores in Canada but tile specialty shops carrying Schluter products can have it ordered in if they do not already stock it.
If you have any comments on this product or if you have pictures of this product in use, we would love to share it with our readers.
Thanks for visiting the DrummondHousePlans Blog!
---