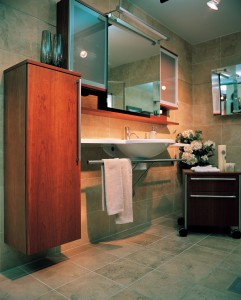 This bathroom has an interesting contemporary style. What may not be obvious at first glance, however, is that this is a wheelchair-friendly space.
The sink is designed with clearance underneath to allow a wheelchair to slide under it. The towel rack also works well for someone in a seated position. Notice the cabinet on casters along the back wall. This keeps the storage unit out of the way when not needed.
The cupboard along the left wall is also wheelchair friendly. Shelves inside can be reached from a seated position, and a mirror on the inside door provides the opportunity for grooming from a seated position.
Most people think of "handicapped" bathrooms as functional but unattractive. However, as our population ages, manufacturers are responding with products designed for accessibility that are also inviting. Notice that this bathroom is also versatile, working well for someone standing as well as sitting.
Many people are now designing their homes with the goal of aging in place – having the ability to grow old while staying in their homes. Others are prepared to bring parents into their homes. A bathroom designed for someone with limited mobility is an important feature to help ensure that you or family members will be able to continue to safely stay in your home.
You may follow other bloggers participating in the Bathroom Blogfest on Facebook or Bathroom Blogfest on Twitter.
Article Credit: Dolphin Carpet & Tile Blog
---