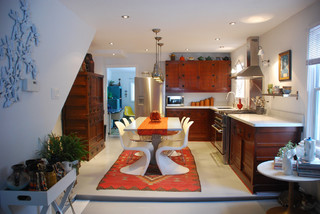 Naturally Beautiful Japanese Cabinets Create Excellent Storage for Asian and Eclectic Spaces
If you like Asian decor, Japanese tansu style cabinets offer an elegant way to add storage to your home. Traditional tansu originated in ancient Japan and were designed to be portable so that they could be carried away in the event of a natural disaster. The cabinets were light weight stackable boxes, and each piece had handles for carrying. Made from woods like elm, Japanese cypress and paulownia, and adorned with simple iron hardware, tansu are prized for their natural rustic beauty. Today, tansu make excellent buffets, kitchen cabinets and dressers. They are available in antiques, reproductions and custom pieces.
Follow the slide show to see if tansu may be the style you are looking for in your space!