People who inhabit and visit the houses we live in come in all shapes and sizes, ranging from infants to seniors, with various ever-changing abilities and skills. As we grow up, grow old and welcome new people to our homes, our housing needs change. A house or dwelling that is designed and constructed to reflect the principles of universal design will be safer and more accommodating to the diverse range of ages and abilities of people who live in and visit these homes.
When Should You Consider Using a Ramp?
A ramp can be used to overcome changes in level, either on the inside or outside of a home, as an alternative to using stairs.
A ramp is ideal for people who are having difficulty negotiating stairs for various reasons, be it the need to carry heavy objects between levels, move a child in a stroller, or because of a disabling condition. Providing both stairs and a ramp at changes in level will allow people to choose the option that best suits their needs, resulting in a flexible and more universally accessible design.
Ramps are particularly useful for overcoming changes in level up to about 760 mm (30 in.), from the ground level to the level of an entrance for example. Using ramps for greater changes in level requires a great deal of space — which may or may not be practical. If you are faced with a big change in level, installing a lift or residential elevator may be a better strategy than constructing a ramp (see Accessible Housing by Design — Lifts and Residential Elevators). The physical and monetary costs associated with both options should be fully explored when deciding which option will accommodate the greatest number of users.
Ramp Design Strategies
There are typically two strategies used for ramp design: a landscape approach and a structural approach.
Landscape Approach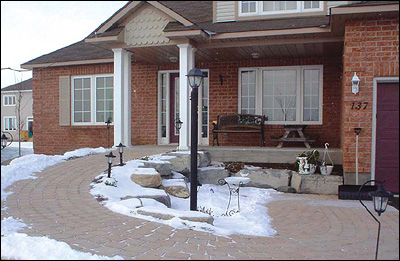 This approach incorporates landscaping, gently sloping walkways and grading to overcome changes in level (see Figure 2). A safe path with a gentle slope can be built without railings (unless there are abrupt drop-offs on either side, or users need them), resulting in an integrated, low-key design that does not look like a traditional ramp.
The landscape approach is generally limited to smaller changes in level.
Structural Approach

The structural approach involves building a ramp structure — usually using wood-framing construction (see Figures 3 and 4). This results in a more noticeable structure, although its visual impact can be minimized through creative design, landscaping and finishes.
The most common ramp configurations are:
Straight

Switch-back 

U-shaped 

L-shaped 
Angled ramps may also be used, but remember that the start and finish of the ramp must incorporate a straight approach. Curved ramps are not recommended as they make steering a wheelchair, walker or scooter very difficult. In some cases, depending on the length of the ramp, landings may be required as resting points.
Read the full CMHC fact sheet on ramps for design considerations and construction options for adding a ramp to your existing property or new home. 
(Source: CMHC – About Your House – General Series)
---