Archive for the 'Zoning' Category
September 4th, 2013
By Deb Villeneuve
 
Translation and adaptation by Deb of an original post by Marie-France Roger
Building a home is a major investment which consumes large amounts of financial resources as well as time. Here are the main steps to take to ensure that you live through your project with the least amount of stress possible.
Financing: Start out knowing your borrowing capacity from your financial institution early in the process to avoid disappointments based on unrealistic ideas about how much you can obtain. It is not recommended to exceed 30% to 40% of the family income with regards to the total of home expenses as a commitment that exceeds 40% will probably have a negative impact on your quality of life
Design: Once a budget has been established and municipal regulations have been consulted, take the time to list the rooms and other specifics that you want in your new home (number of bedrooms, bathrooms, with or without a garage, vestibule and/or mud room, kitchen island, etc.)
Once you have this list, you can consult the stock plans on our web site, drummondhouseplans.com
Our technical specialists can help you design the home that meets your needs by personalizing the plan of your choice to add or change any of its features.
The build:Take the time to consult friends and family to find a reputable contractor and don't be afraid to check references. Ask to see finished projects and be ready to go and visit them in order to see the quality of the workmanship and to speak with the new homeowners about the contractor if at all possible. Obtain quotes from at least 2 or 3 contractors to get a good idea of realistic costs for your project.
If a pre-fabricated home is what you are looking for you can bring your plan to a reputable builder in your area as many manufacturers are able to quote a price based on a plan even if it's not their own design.
Construction licence: Permit requirements vary enormously from one area to the next so it is of utmost importance to consult the municipal requirements of your city early in the process to ensure that the plans you choose conform.  Set back, distance from neighbors, ridge height, color and type of exterior materials are among the criteria that you must know before selecting your plan to avoid disappointments and delays in getting started.
Analyse the different quotes to choose the contractor who will build the "home of your dreams". Take the time to scrutinize the construction contract in detail to ensure that everything is there. Payment schedule, lead times, prices before taxes, what is included and what are considered extras, guarantees, etc…
If in doubt, ask questions and get signatures on the contract. Above all take nothing for granted and if it is not clear you are better to spend the time exchanging Emails or other written confirmation than to have unpleasant surprises come and tarnish the beauty of your project.
We would love to hear from you about your own experiences…
April 9th, 2011
By Vivian Martin
Following the increasing demand for houses that allow semi-independent living of multiple generations, Drummond is happy to offer this model which is ideal when families want to be close but have independent living spaces.
Discover efficient internal organization resulting in attractive living spaces. On the family side, one need only note the beautiful living room with fireplace, and lovely kitchen / dinette with large windows and front view. Each of the models provides good size bedrooms, the presence of a common laundry room on the ground floor and functional bathrooms.
Each suite has a private entry and allows for easy access but independence of each suite. Of course, one should check with their municipality or planning department to ensure that secondary attached suites are allowed in local zoning.
For more details on this plan, click here…
This model is also available in a three-bedroom model (3042).  
Looking for other bi-generational plans / in-law suites / granny suites? Check our Mother-in-law Suites and Multi-generational House Plan Collection or Create  a "New House Plans – Latest Trends" Alert to receive all of the latest designs direct to you by email!
Thanks for visiting the DrummondHousePlans Blog!
December 4th, 2010
By Vivian Martin
Our parody on the Twelve Days of Christmas continues. We dare you not to sing them out loud!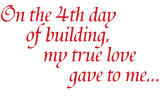 Four house plans to choose from,
Three French city planners,
Two steel-toed boots,
and a journal for my hopes and dreams!
************************************************************
There are so many options but only one will do. When looking at house plans, it goes back to the priorities and wishlist you should have from your journal (remember the one from the first day of building -the one for all your hopes and dreams?) You may find yourself with a shortlist of plans that are spot on or very close to your priorities. Of course, they will also be within the local zoning parameters (third day of building).
When making your final decision for your plan, run through this checklist:
Privacy – how much and where is it required? Most new home owners prefer home plans with more privacy in the master bedroom and personal living spaces, others might need privacy in a home office space. Is it more important that these rooms are private from other occupants or neighbours? Check the placement of windows to see if they will provide adequate privacy from neighbors' windows and yard spaces. Also consider your outdoor spaces, how you will use them and if they will have enough privacy with your selected plan.
Consider the views. Make sure your design capitalizes on your views, whether a scenic vista or a great cityscape. You may even go as far as to take a ladder to get an idea of what the actual views from an upper level will be.
Where do you want the morning sun? Take note of the way the sun tracks in relation to the plans you are considering. Do you love waking up with the sun shining in? Kitchens are also a strong consideration.  It is very common to orient the kitchen to the morning sun. Natural light plays such a strong part in mood that this is a very important consideration. Sometimes a plan you love can simply be reversed to take advantage of natural light.
Geographical and natural landscape features. Lot features including slope and mature trees will dictate the suitability of a design. Also, while choosing a plan, consider whether the lot space and features will allow for outdoor recreation space and landscaping, lawn or gardens.
Life happens. Think of your typical household flows and imagine how the design you are considering will work. Think of your daily routines and imagine how this flows in the plan you are considering. Which entry will you use? How will you deal with bringing shopping bags in? How often will you access backyard spaces and how easy is this?
Tweak your plan. As you fine-tune your decision, it is a great opportunity to address any parts that don't quite work for you. It is far simpler to fine-tune your design before building than living with a plan that doesn't work for you.
At Drummond House Plans, we recognize that changes are commonly required to meet your unique needs. Plans can either be customized or features from several plans or ideas can be merged in a custom design from our design team. We are accustomed to assisting in this process and look forward to your questions.
Stay tuned for all 12 days or look at the full 12 days of building series for articles you may have missed!
Happy Holidays!
December 3rd, 2010
By Vivian Martin
Our parody on the Twelve Days of Christmas continues. We dare you not to sing them out loud!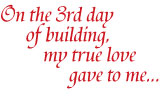 Three French city planners
Two steel-toed boots,
and a journal for my hopes and dreams!
************************************************************
I use French city planners here, only to stay true to the song. Actually, employees of the planning and zoning departments seem to speak a language unto themselves. It is best to familiarize yourself with some essential terminology:
Zoning - Zoning is used to guide development in a manner that is compatible with its neighbours, having minimal negative impact on its surroundings. Zoning regulations and by-laws are used as a means of carrying forward community visions and directions into the community.
Setbacks – The spacing of a home in relation to the building lot is determined by the setbacks. These are the required distances that a building must be located away from the streets, easements, and other structures. The size of the setbacks is determined by a municipality's Planning and Zoning Department and the size of the setback depends on the zoning of the property. Before building any type of structure, a property owner should contact his city's Planning and Zoning Department and ask about the property setbacks.
Ridge Height – This is the very highest point of the building. Before purchasing a plan or having a custom home designed, a property owner should contact his city's Planning department and ask about the allowable ridge height for the given property. It is wise to also verify their specifics as to where they take the measurement from as there are some regional differences in this calculation.
Easement – A limited right of use of another's land by a landowner for the benefit of his land. The land receiving the benefit is called the dominant tenement and the land granting the benefit is called the servient tenement.
Site Plan (aka Lot Plan or Plot Plan) – A site plan is an architectural drawing that displays all the major features and structures on a piece of property. The required information included on a site plan can vary by project and region, but will generally include the location of all structures, porches, and decks. It may also include swimming pools and landscape, as well as underground and aboveground utilities. Most site plans will also show the lot lines (property boundaries) along with a brief description of adjacent properties.
Depending on the complexity of the project, site plans may be drawn by surveyors, architects, engineers, or homeowners. When developing a site plan, starting with an existing site plan is easiest. These can often be found at the local land records office. Alternatively, the person creating the plan must start from scratch by taking measurements or surveying the land. Once the site plan is submitted to the local permit agency, a copy is often kept on record for future use or reference. As always, contact your local planning office to clarify what specific information is required and in what format. The site plan below is fairly typical of the information required.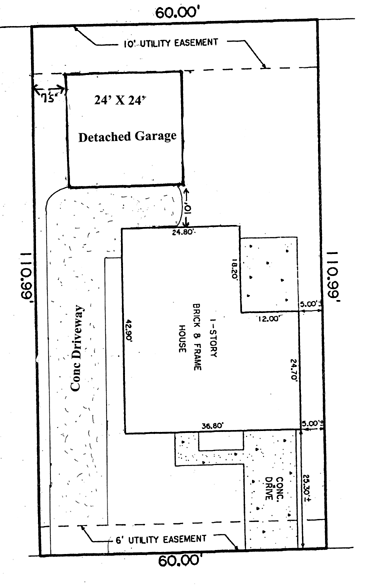 Variance – A variance is a request to deviate from current zoning requirements. If granted, it permits the owner to use his land in a way that is ordinarily not permitted by the zoning ordinance. It is not a change in the zoning law but a waiver of a certain requirement of the zoning ordinance. Examples where a variance might be apply would be to build a gazebo in the back yard, add a second story in a one-story zone, allow a higher ridgeline, or to allow the owner of an odd-shaped lot to reduce slightly the setback requirements in order to fit a building.
Stay tuned for all 12 days of building or check the articles you may have missed! Happy Holidays!