Archive for the 'Wood stoves' Category
September 7th, 2012
By Vivian Martin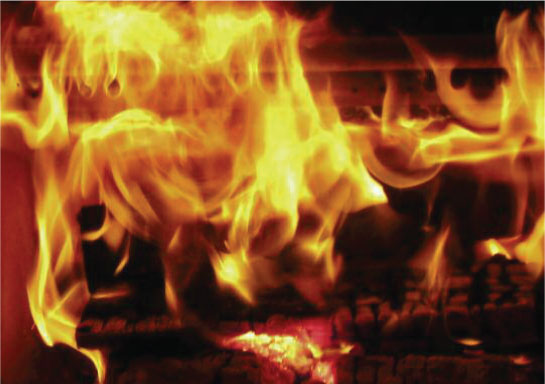 If you heat with wood now or are considering the use of wood fuel for home heating, this book is for you. Wood as a home energy source differs in important ways from all the other options. Heating with wood can be challenging because of the physical demands involved. Special knowledge and skills are needed to successfully use this hands-on home heating option. In this book you will find much of the information needed to make sure your wood heat system is safe. You will also find helpful tips on how to operate and maintain it effectively.
Just as with all energy sources, heating with wood has both advantages and disadvantages. Some of the advantages are that wood is a renewable energy resource that does not need much processing. Many users like the fact that heating with wood makes their households self-sufficient for heating and secure during an electrical power failure since firewood burning appliances can operate without electricity. Burning wood from local sources means a double economic benefit in the form of savings to the household budget, and energy payments that circulate locally instead of going to distant energy companies. Some people enjoy cutting, splitting and stacking firewood and treat it as part of their physical fitness routine. Most people find the beauty of the natural wood fire hard to resist and many couldn't imagine living a winter in Canada without it.
There are disadvantages too. The most serious problem is air pollution caused by older stoves, fireplaces and furnaces that can't burn the wood completely, and by users who don't know how to burn wood properly. Even the most advanced wood heating technologies produce more air emissions in the form of small particles than the conventional heating fuels like oil and gas. Heating with wood means that household members must be involved in managing the fire, the fuel supply and doing regular maintenance jobs like ash removal. All these tasks take time and therefore have a cost.
Wood fuel is bulky so a winter's supply takes up a lot of space. There are practical limits to the number of households in Canada that could be heated with wood because of the damage that could be caused to the forest resource and to the air quality in large cities.
Although wood was Canada's traditional fuel and was the main energy source until about 150 years ago, there have been major advances in wood burning over the past 25 years. These have made wood burning safer, more efficient and convenient than ever before. Some of these advances include:
- New firebox designs are capable of burning the wood more completely, cleanly and at higher efficiencies. 
- A new type of door glass can withstand the heat, and a technology keeps the glass clear for days at a time, allowing efficient heating to be combined with viewing of the fire.
- Pellet stoves that use compressed wood and other biomass wastes are capable of providing at least 24 hours of unattended heating.
- Reliable installation safety standards provide clear guidelines for safe installation.
- Training and professional certification programs for installers and inspectors mean that you can get dependable advice and service.
As recently as 1980, most serious wood burning was done with basement wood furnaces or simple, black, wood stoves. Now, all that has changed. The majority of new wood heating installations are attractive, advanced-technology stoves and fireplaces located in main living areas. Properly installed and located wood heaters are able to provide most or all of the heat for a home, while at the same time offering the beauty of a visible fire. 
Canadian houses have also become more energy efficient, with more insulation, more effective air barriers and sealed doors and windows. These changes have made houses easier to heat, but have also meant that wood-burning systems must be more carefully designed so they will function properly within the tightly sealed house environment.
The keys to safe and successful wood burning are good planning, careful installation and proper operation. This book is intended to help you plan a successful installation and to use your wood-burning system in the most safe and effective way.
… The above excerpt is from the CMHC publication "A Guide to Residential Wood Heating". The full book is an excellent read and downloadable at http://www.cmhc-schl.gc.ca/odpub/pdf/66067.pdf?fr=1347037607343 
October 24th, 2011
By Vivian Martin
Nothing cheers you up on a cold day like sitting with a cup of cocoa in front of a warm fire. Cooler weather is right around the corner and now is the time to maintain your fireplace to make sure it's in good working order.
It's not just about keeping your place clean and functioning at full efficiency; a plugged chimney can be a health hazard. These simple tips will keep your family's fireplace burning brightly and safely.
Read the full BuildDirect article for information on how to prepare and maintain your wood fireplace, gas fireplace or electric fireplace for the winter season ahead.
October 18th, 2011
By Vivian Martin
A wood burning stove that is properly installed and carefully maintained can provide the warmth and comfort you need in winter. Wood burning stoves also provide the perfect heating alternative when there is a power outage. However, there are several important safety factors to consider when you use your wood burning stove.
Tip 1: Maintain the Required Distance between the Stove and Surroundings
During installation of your wood burning stove, you must ensure that it meets the clearance requirements specified by your local fire department. Most fire safety codes required that a wood burning stove must be at least 3 feet away from drapes, furniture and other items.
Tip 2: Burn only Seasoned, Dry Wood
The best material to burn in a wood burning stove is dry wood that has been seasoned for at least 6 months. This type of wood burns quicker and brighter, thereby reducing the formation of creosote. Creosote is a highly inflammable byproduct of incomplete combustion of firewood, which usually forms in the chimney and can increase the likelihood of fire. Burning unseasoned or wet wood greatly increases creosote formation and must be avoided.
Tip 3: Light Small, Bright Fires
Burning a big pile of wood causes incomplete burning and can result in overheating of the fireplace and chimney. This is very unsafe, which is why the best practice is to light small fires and then add small pieces of seasoned firewood as required.
Tip 4: Have the Chimney Inspected and Cleaned Every Year
A licensed chimney sweep must inspect and clean your chimney at least once a year. This maintenance is critical to maintaining the safety of your stove and chimney, because it removes any soot and creosote formation.
Tip 5: Never Burn Paper or Trash
Burning paper or trash in the wood burning stove may seem like a quick way to light a fire. However, this practice is dangerous because these substances are highly combustible and may emanate toxic gases.
Tip 6: Keep Children and Pets Away
Never leave a wood burning stove unsupervised. Make sure your children and pets are a safe distance away. Installing a safety gate around the wood burning stove is an effective way of maintaining a boundary.
Tip 7: Keep the Area around the Stove Clear of Household Items
Avoid clutter around the wood burning stove. Embers from the fire can land on nearby items and ignite a fire. Keep books, toys, clothes and rugs well away from the stove, especially if you have children close by.
Tip 8: Keep Combustible Materials Away
Never store combustible liquids such as kerosene or gasoline in your home. Never use these substances to start a fire or to increase the intensity of a fire in your wood burning stove. Keep firewood in a protected location outdoors as well.
Tip 9: Dispose of Ashes Outside
After a fire has died out, collect the ashes in a metal container. You can wet the ashes to subdue any remaining embers. Dispose of the ashes outdoors, away from trees and plants.
Tip 10: Install Smoke Alarms and Carbon Monoxide Detectors
Any home that uses a wood burning stove must have a working smoke alarm and carbon monoxide detector. These devices warn you in times of danger and can save your home and family. Also keep a fire extinguisher nearby.
May 1st, 2008
By Jessica Langlois
It's funny how we are sometimes, and how predictable we sometimes are as consumers.  I include myself of course!
Need a barbecue for the summer?  Many of us run to our local hardware store and purchase the most powerful, hotest looking thing there is. 
It was on sale in February and we all know they are going to be on sale again in mid summer, but we gotta have it now!  Again, bare in mind, I can clearly see myself in this pattern!
How about buying a Christmas tree in August?  Or an inflatable pool in January?
I could go through a list of hundreds of items that we purchase without planning.  And don't get me wrong, we don't see many people buying shovels in July just because they're on special.  I know I wouldn't! Not after the winter we just had.  I don't want to see a shovel before new years!
My main point is,  if you have an idea of what your needs will be for the fall season, it's always a good thing, financially speaking, to plan ahead.  If you plan to buy a new television for example, summer's one of the best moments to purchase one.   Come october, month when we all start getting the "I just want to cuddle up" mood, many businesses will be waiting to sell you the same television you saw on sale 2 months before now full price!  We all know this of course but rarely do we plan these types of purchases.
A good item to plan a purchase for, at this time of year, is a wood stove.  The best time to buy something is when it's out of season.  You'll be happy you have it when the "mood" I was refering starts settling in…
As for me, I still can't get around to purchasing a Christmas tree on Boxing day!  Someone's bound to be happy to see me pay full price for it in december!
November 15th, 2007
By André Fauteux
The Canadian Council of Environment Ministers has planned for 2005 a national ban of the sale of non-certified wood-burning appliances for their weak particle emissions.  Specialists and consumers alike have been demanding a ban since 1990.  But there is a snag :  the ministries' lawyers discovered too late that the present laws do not give this power to the legislator.  << We will propose an amendment to the Protection of the Environment law from now to the end of the year, but it could take four or five years before it comes into effect >> Alain Gosselin, team leader for Atmospheric Stakes for Québec at Environment Canada.  << I'm a bit discouraged when I talk about it. >>  In 1990, the United States imposed certified EPA 1990 wood stoves and fireplaces, which emit only 2 to 4 grams of particles per hour compared to 30-40 gr. /hr for conventional models.  These appliances cost around $300 more but their more complete combustion reduces the amount of wood burned.  British Columbia is the only province to do the same, by imposing an equivalent Canadian norm, CSA B415.
 In 2000, a committee of experts recommended Environnement Québec follow suit, but changing the law keeps being delayed.  << It is always a priority and we will attempt to act more rapidly (than Ottawa) while harmonizing with the Federal, >> says the chief of service of Atmospheric Quality at Environnement Québec, Raynald Brulotte.  << We must satisfy the new Canadian standard for fine particles, which will be applicable in 2010>>.
But, for the assistant deputy-minister of the same ministry, this is not a high priority. << This would not have such a conclusive effect on the environment >>, said Pierre Baril in a telephone interview.  << The regulatory approach is not always the method which has the most impact.  We prefer a combination of education and economic incentives.>>  Decision which was denounced by Dr. Louis Drouin, responsible for environmental health at Montréal-Center Public Health Center.  << I am surprised and deceived that Québec doesn't act more rapidly, taking into account that we surpass the Canadian standards for breathable particles in the air about 15% of the time in winter.  For us Montrealers, this is a priority.>>
Effects on Health

As well as emitting cancer-causing pollutants in exterior air and often also in homes, according to Environment Canada, residential heating with wood generates half the fine particles coming from human activities, even more than all transport sectors.  As they penetrate deeply into the lungs, this invisible dust can provoque asthma attacks, cardiac problems and depress the immune system.
<< We do not encourage combustion with wood and we downright discourage it in urban and suburban centers as houses there are closer together >>, explains Alain Gosselin.
He wishes that people will heat in a more responsible manner, for example by burning only very dry wood.  Moreover, he hopes that all elected council officials imitate their American colleagues, who impose casting out old wood-burning stoves when a house is sold, or those of certain cities in British Columbia who forbid use of a non-certified appliance during smoggy winter days.