Archive for the 'Wallpaper' Category
March 2nd, 2011
By Vivian Martin
… but with a few modern twists and cottage improvisations
There's some good news and some bad news for 2011′s hottest interior design trends.
The bad news: The '70s are back.
The good news: They're not what you remember.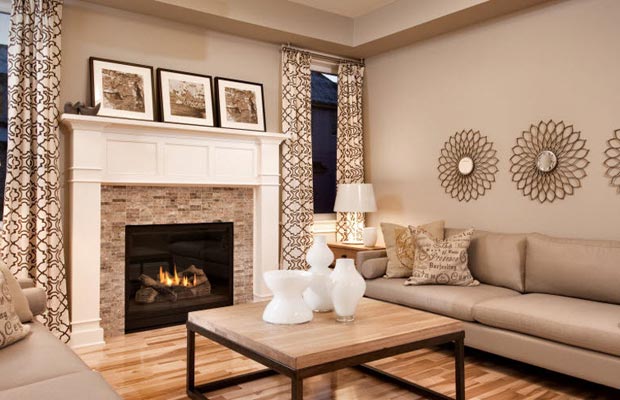 In fact, from lighting and paint colours to carpets and furniture, designers are re-imagining the not-so-distant past with a sharp modern eye. Whether it's pairing vibrant burnt orange and gold accents or a adding a retro-but-modern starburst light fixture, the '70s are returning — with an updated twist. Here are the top 11 interior design trends for 2011. 
Environmentally sound lighting
We've seen the light — LED lights, that is. Led by the clever designers at cutting-edge Dutch company, Moooi, LED lights are being refashioned from the cold blue of Christmas ornaments into warm, glowing interior fixtures. Compared to incandescent bulbs that emit 4,500 pounds of carbon dioxide a year for every 30 bulbs, LEDs emit a meagre 451 lbs. annually, and cost $32.85 to run per year, compared to $328.59 for 30 incandescents. And in the case of Moooi's starry Raimond fixture, they can be left on for seven years straight without blowing a bulb. "There are not very many companies doing LED lights yet, because not everyone has perfected how to make it look like a regular light," explains Michael Shaikin, owner of the Modern Shop at 1192 Bank St. "Yet people are very interested in LED lights, and buying fixtures to pull their room together." Available only at The Modern Shop, the Raimond comes in three sizes and two shapes, ranging in price from $2,000 to $5,000.
Craftmanship
Have you had enough of cheap, environmentally questionable, Made in China furnishings and household goods? Get in line. As a backlash to more-is-better, consumer spending is shifting subtly towards sustainable, hand-crafted and long-lasting furnishings, often using previously forgotten skills and craftsmanship. For example, says Danielle Hannah at 2H Interior Designs, she's transformed beautiful old ironwork into a coffee table and antique vases or urns into lamps. "I definitely think people want utility, but they want something they can count on, too," she explains. "Younger people are educating the older generation about recycled items, too. It's an ethical awareness."
That 70′s style
While it may be too early to dig out your hot rollers and high-waisted Tribal jeans, '70s-inspired interiors are nevertheless making a comeback. Simple, clean-lined furniture, retro accents in teak furniture and warm oranges are part of the 2011 landscape, says Kelly Maiorino of Unique Spaces. "It's not about doing the full-on '70s," she says. "It's about mixing it well with clean-lined pieces. The warmer woods, orange and brown were overdone back then, but it did have a good feeling and that's what people are looking for."
Global accents
Persian rugs, African masks, Indonesian batik — personal art is going global this year. Evocatively organic and raw, primitive art, textures and crafting techniques also reflect diverse interests and a global view. And they're a great way to soften sleek, ultra-modern homes with more lived-in touches, says Maiorino. "From exotic Oriental rugs to bold prints and travel-inspired artwork, global interiors are one of this year's leading trends," she explains. "We're seeing influences from Asia, Africa and Europe. It adds warmth, individuality and character."
Natural wood
Dark wood is beautiful, trendy — and tough to keep looking spic and span, says Hannah. In its stead, interior designers are using natural, organic wood such as driftwood and aged cedar. "People are realizing that dark woods are impractical. So we're finding furnishings and stains that are more aged. It looks very well with neutral shades." According to Germany's Heimtextil Trends, which predicts international design trends annually, it's part of a move toward sustainable lifestyles. "People are looking for distinctive individualistic features marked by imperfection, not perfection. A new organic look is being created, which nature captures in all its forms, characteristics and materials."
Grey and yellow
Part of the 2011 trend predictions from colour experts Pantone, soft creamy yellow, warm grey and dark graphite are all "more luxurious-looking," says Hannah. "Muted yellow, grey and cream are fantastic together. I'd do a whole living room in that. You can highlight beautiful architecture with a neutral and add colour and texture with fabrics."
Teal and orange
Strong, vibrant and modern, burnt orange and teal accents "are just fantastic and very hot this year," says Hannah. Used in patterned cushions, curtains or carpet, "they go very well in modern classic houses. It starts with fashion: people who never considered it are wearing teal shoes, and thinking they want to see it on their walls." Even so, she says such colours look best in splashes around a room. "If you have 80-per -cent foundation in neutral tones, you can switch up the other 20 per cent in pillows and drapes. If you need to change by the season, you can do that more quickly than repainting."
Serenity
The more plugged in we become, says Hannah, the more people want to kick back and regroup. "Serenity in their homes is a goal for a lot of people. It's very hard to live in a modern home — it looks fantastic in a photo, but is it practical? People want to soften that, with textures and old patterns. Cotton velvet, mohair, burnt velvets and really great quality silks can all be used to create a feeling of serenity in a modern home. It's a reference to the past that makes people feel good."
New country
Forget Grandma's apple pie, kitschy cow portraits and floral curtains. Modern country is all about "neutrals and crisp clean whites paired with raw organic woods and accents with both modern and traditional art and furniture," says Maiorino. "People think 'country' and they think big floral prints, but country has come a long way. It's cleaner, fresher and more utilitarian."
Bold modern interiors
"Modern style used to be cool and contemporary, but there are old textures being brought in to soften the hard edges," says Maiorino. "I think people are looking to soften and warm up their spaces, but keep it modern-looking." In rooms with architectural furniture and a strong single focal point, she suggests adding a wool or sisal area carpet, faux fur pillows or luxurious velvets and silks. "I think the comforts of home are the big deal this year."
Wallpaper
Yes, wallpaper. And while you're at it, make it big and vibrant, says Hannah, who has recently wallpapered ceilings as well as walls. "The patterns are so beautiful, the patterns are so big, you could literally frame and display them on either side of the hutch in your dining room."
(Source: Househunting.ca – See original article here)
January 10th, 2011
By Vivian Martin
The Cross' Peter Wilds on New Patterns and Textures…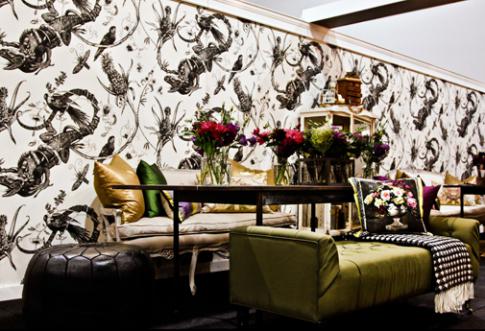 The latest offerings in wallpaper will have you eyeing every surface in your home, scouting for an area that needs a little pick-me-up
This article includes feedback from The Cross's in-house designer Peter Wilds to get some tips on navigating the new world of wallpaper. Nominated last year as one of House & Home's stylemakers, Wilds has some creative ideas to help you incorporate wallpaper into your own home.

Why is wallpaper so trendy again?
Wallpaper has been huge in Europe for the last 10 years. The reason there's such a resurgence is due to what wallpaper is today – it's art. And it's being done in an edgier and sometimes hotter way. Lines that we carry like Designer's Guild and Timorous Beasties out of the UK are known for their graphic organic and geometric patterns in dynamic and modern colours.
What makes it fresh this time around?
Neutral colours are still timeless and essential to decorating, and there are countless wallpaper options that complement this scheme. What's new is the texture, the shimmering quality and sometimes the edgy patterns.
Elements have been applied to paper so they have a raised texture – three dimensionality. Some papers have a shimmering quality, like a modern gilt effect, where natural and artificial light create a glow in the room. Patterns such as florals or stripes are bolder in scale. And sometimes the subject matter is unexpected and humourous.
The same goes for colour. Bold, confident and saturated colour plays a big part in where wallpaper has gone. Now wallpaper acts as a giant canvas in a room. This is where it acts as art.
Read full article here…
Source: BC Living, Style Lounge Blog