Archive for the 'Solar Ready' Category
October 6th, 2011
By Vivian Martin
In our energy efficiency series of articles featured each Thursday, we provide strategies or information on how to make your new home energy efficient and comfortable. 
Hot water demands the second largest amount of energy in our homes, after space heating, and it represents about 30 per cent of total energy use in our homes.
Solar hot water is smart and cost effective technology that can supplement up to 60 per cent of the water heating energy needs for a typical family of four. This comes from the fact that in Canada there is enough solar energy to generate an average of 2500 kWh of energy per year!
Domestic solar hot water systems are designed to last 20 to 40 years, minimize environmental impacts, and promote community economic development through the building of a sustainable industry economy. So you'll be contributing to a healthier environment, and making a difference!

On July 12, 2011 the federal government announced the return of the ecoENERGY Retrofit for Homes Program. The program provides homeowners with grants of up to $5,000 for making their homes more energy efficient. Included in the list of grants is $1,250 for installing a year-round solar hot water system. (Residents may also be eligible for regional grants. BC residents also apply for the $500 grant for solar hot water installations available from LiveSmart BC, they can save $1,750 in total.)
Both the ecoENERGY program and the LiveSmart BC program require the homeowner to have a pre- and post-retrofit energy evaluation. To qualify for ecoENERGY funding, purchases of energy saving equipment must be made after June 6, 2011, and retrofits and the post-retrofit evaluations must be completed by March 31, 2012. For LiveSmart BC funding, retrofits must be completed within 18 months of the pre-retrofit evaluation or before March 31, 2013, whichever comes first. LiveSmart BC funding is provided on a first come, first served basis.
"This is a wonderful opportunity for BC residents to install solar hot water systems, save on their energy bills, and reduce their greenhouse gas emissions.", says SolarBC Manager, Julia Roberts. "I recommend that residents act on this opportunity quickly as the timelines are tight and we saw LiveSmart BC grants snapped up last year".
Read more about the ecoENERGY Retrofit for Homes Program
The complete list of available ecoEnergy grants can be found here
You can review details of the LiveSmart BC program here.
(Information above courtesy of SolarBC)
For more information on being Solar Ready, we are providing some links which you may find helpful:
September 19th, 2010
By Richard Martin - BC Distributor
Link:
http://www.drummondhouseplans.com/authorized-agents/british-columbia-provincial-distributor.html
Filed under:
Alberta
,
British Columbia
,
Energy
,
Green Building
,
Manitoba
,
Natural Resources Canada
,
Net Zero
,
Ontario
,
photovoltaic
,
Saskatchewan
,
Solar Energy
,
Solar Ready
,
SolarBC
,
Sustainable
,
Uncategorized
,
Zero energy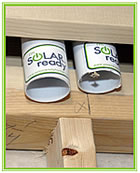 With the greening of many building codes, "solar readiness"  is creeping into the code. What does this mean and what is involved? In speaking with a number of builders, this is not as complicated as it sounds and is most cost-effectively done when the home is being built. It generally adds about $200 – $500 to the cost of a new build and allows for the future use of solar energy. Solar energy may be used to heat water or produce electricity for your household.
As per Natural Resources Canada: Solar Ready is a cost-effective upgrade you can choose for your new home – an upgrade that could help you make big savings in energy costs. Solar energy systems capture the sun's clean renewable energy, so your home may provide savings for you and a positive environmental impact in the future.
Solar Ready means preparing a home to make future solar installations easy. When you choose the Solar Ready option, your builder will design cost-effective adjustments for your home so you can install solar equipment in the future.
Solar terminology
A solar domestic hot-water system enables use of solar energy to heat water.
A photovoltaic system converts sunlight into electricity.
What does being Solar Ready involve?
A Solar Ready home must meet five basic requirements for the installation of solar energy systems:
a roof location of suitable size, pitch and orientation

labelled conduits from the mechanical room to the attic

extra plumbing valves and fittings on the water heater

an electrical outlet at the planned solar tank location

construction plans that indicate the future component locations
For more information on being Solar Ready, we are providing some links which you may find helpful: