Archive for the 'Hot tub' Category
February 18th, 2012
By Vivian Martin
http://www.drummondhouseplans.com/house-plan-detail/info/1001458.html
The casual façade of this comfortable country home only subtly hints at the joys within. Intersecting and cascading gables ensure pleasing views from every angle and a discreet side-loading garage is a pleasant alternative to forward-facing garage doors.
The main level includes every amenity for graceful single-level living. A generous foyer leads to an island kitchen or on to the main activities areas. The dining room shares the warmth of a two-sided fireplace with a generous living room. A hall powder room will be appreciated by guests.
The master bedroom is designed for comfort and convenience. A nice-sized walk-in closet is sure to be appreciated, as is the 5-piece master bathroom with soaker tub, oversize shower, dual vanity and compartmentalized toilet room. An adjoining covered hottub deck allows for easy showering before and after a nice spa soak. A conveniently located laundry room completes the main-floor amenities.
Upstairs, two bedrooms are each graced by a walk-in closet. A shower room and separate half bath allow many grooming options and privacy. A seating area on the mezzanine provides a great reading area or office nook.
An unfinished basement is included with the plan, allowing for additional bedroom or living area options.
An ideal home for a lifetime of graceful living with every comfort!
For more details on this plan, click here…
Looking for other Cottage or Waterfront House Plans or Panoramic View House Plans? Check our Cottage and Waterfront Design Collection, Panoramic View Design Collection or use our Advanced Plan Search to find homes with specific features.
Want to receive all of our newest designs directly by email? Create  a "New House Plans – Latest Trends" Alert  and be the first to see all of our new releases!
November 26th, 2011
By Vivian Martin
This rustic chalet features 6 bedrooms, panoramic views, generous storage and many amenities. Suitable for large family vacations, a corporate retreat, bed and breakfast or rental property.
The open floor plan of the main level is sure to be the hub of this home. Revel in the expansive kitchen with over-sized island. The living room features a vaulted ceiling, handsome hearth and three sets of French doors. Outdoor pleasures abound with both a covered and open deck off the living room. Adjacent to the living room is a dining area with adjoining sitting nook. Sports equipment can be conveniently stowed in a storage room with exterior access or taken directly into a large laundry room with drying area.
Upstairs, the larger bedroom includes a sitting area and walk-in closet. Even the smaller bedroom boasts a walk-in closet. A 5-piece bathroom, complete with independent bath and shower is shared by these two bedrooms and an open mezzanine provides a bird's-eye view of the living room below.
In the basement, four additional bedrooms share two shower rooms, theatre room or recreation room and easy access to a covered hot tub area. This chalet is sure to provide four-season pleasure for all!
For more details on this plan, click here…
Love the look but need something a bit smaller? Plan 2957 may suit your needs.
Looking for other Panoramic View House Plans or Vacation Getaway Plans? Check our Panoramic View Design Collection, Vacation & Cottage Design Collection or use our Advanced Plan Search to find homes with specific features.
Want to receive all of our newest designs directly by email? Create  a "New House Plans – Latest Trends" Alert  and be the first to see all of our new releases!
March 10th, 2011
By Vivian Martin
When considering building a deck, there are many variables that need to be evaluated. Some considerations that need to be decided on include where the deck will be placed, and its use and the size that you would like to deck to be. These factors can determine the types of materials that you use, and the style in which you build your deck. For many first time do-it-yourself types, this a great way to have a rewarding project with great benefits and added value to your home.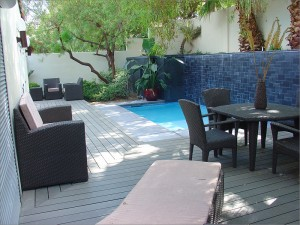 Investigate local building codes and get the right permits
Before building any project, or adding to your home, it is important to investigate the permit requirements for your city, county or township. Many people make the mistake of building or adding on to their homes, only to find out that they have to take it down because of the lack of a permit. After you have educated yourself on the requirements for your local municipality, the next step is to investigate underground utilities. This is a vital step that can help protect wiring, gas lines and water lines that are running to your home.
Many utility companies can come out and do a free test to help you locate important underground items. This is especially true of natural gas lines and power lines, as these two usually service more than one residence per line.
Choose deck layout plans
After you have taken care of all the paperwork and safety issues, the next step is choosing your deck layout. For many, a deck is more than a functional addition to their home, it is an extension of their home. Try visualizing a BBQ or a friendly get together, and this could give you inspiration on the design on the deck that you will be creating. Another helpful tip is that while you are daydreaming about your social schedule on the new deck, carry some stakes around with you. While you are mentally mapping out the plan, you can place stakes in the ground to help mark the placement of certain points for the structure. This will also give you a good idea if the deck you have chosen will be a good fit for your yard.
Choose your decking materials; wood, composite, vinyl, etc
The next step is to investigate different types of materials to use. This can be a very difficult decision, and figuring out what is best for you can prove to be a challenge. Free decking samples and materials are a great way to see and feel some of the options that are available. For example, cedar decking is beautiful, has a nice color, and is durable, however, it will require regular maintenance and upkeep. Composite decking is essentially a maintenance-free product that offers lifetime guarantees. You may choose to use another type of material like a soft wood pine. For these choices, it is best to see what works best for the weather that you experience, and cost effectiveness.
Gather your decking tools
You also need to invest in some tools for this project, as deck pieces are not pre-cut based on specifications. Some of the items you will need include:
Circular saw

Hand saw

Carpenters pencils

Carpenters square

Measuring tape

Hammer — manual or compression

Saw horses

Miter box

Safety glasses

Gloves
These items will be used often during your project. Once you have chosen the type of decking material you are going to use, you can then investigate the proper fasteners for that material, along with the proper nails. These are important items to have in order for your deck to be long-lasting and durable.
Happy deck building!
(Article source: Build Direct. Visit their blog for related topics.)
January 28th, 2011
By Vivian Martin
Relaxation can be achieved in a variety of forms. For today we put together a collection of 30 amazing bathroom designs that are meant to release pressure. Whether it is the shape of the bathtub that makes a difference, the inspiring decorative objects or the view that can be admired, these bathrooms all have something in common with relaxation. Some interiors are rich in green arrangements, which add freshness and invigorate the place. We also tried to find a few bathroom designs that have a special color theme. We noticed that wood has a great effect in modern decors- take the first picture for example- as it adds authenticity and personality.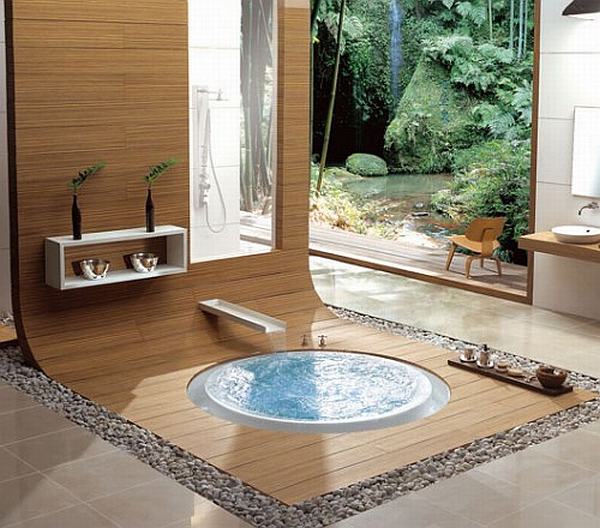 Windows are also of major importance, as they have a huge influence on the aesthetics and atmosphere of a room. Diagonal windows add a dramatic touch and are welcomed in case there is an inclined wall near by. Most of the bathrooms in the pictures below are modern, but you will also notice a few classic elements that combine perfectly with the contemporary arrangements. Have a look and tell us what you think about this collection of bathroom designs.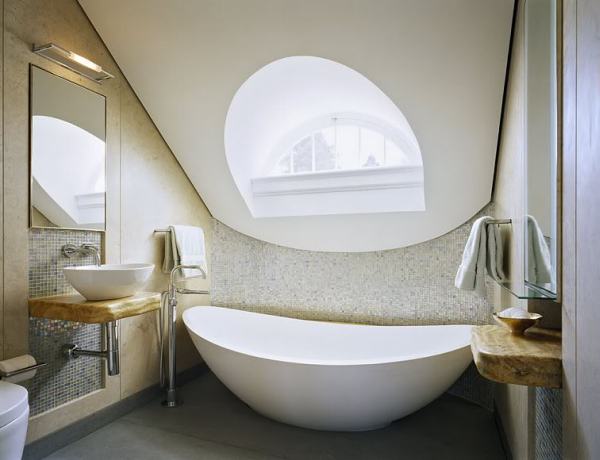 To visit the entire Bathroom Design Idea gallery from Freshome, click here. Take your time as each image has a lot to offer.
June 17th, 2010
By Vivian Martin
As we continue our father-inspired topics this week, we visit one of Dad's favourite back yard features - the hot tub. It does not seem to matter whether we are vibrant zoomers, broken boomers, or young and fit – hot tubs are a luxury that more and more households are opting to include in homes for reasons of comfort, therapy and recreation. As home designers, we know that these units may be placed in various locations from the master bath to indoor/outdoor rooms that spotlight the hot tub as a social centre or hub of backyard recreation.
Julie Ann-Amos of Hot Tubs 'N Home Spas.com, provides an excellent article on the history and health benefits of hot tubs. 
For many years, hot tubs and home spas were the exclusive luxuries of the wealthy. They were expensive to buy, expensive to operate and not very reliable. With the onset of better manufacturing and better materials, and lower prices, however, the popularity of hot tubs and home spas began to soar.
Spas Throughout History
History gives us many examples of spas being used as integral parts of life for many civilizations. The Romans are perhaps the most famous for their bathhouses, which became centers of social life and a common daily activity for the elite classes. Other cultures made use of spa-like hot baths as well, including the ancient peoples of China and Japan.
What did these civilizations know that others didn't? Setting aside technological differences, some of the earliest spa enthusiasts appreciated the health benefits of using hot water to relax the body, open the pores of the skin, and generally promote better health. Cleanliness was considered healthful and a sign of prosperity – after all, you had to be pretty well off to afford the bath facilities themselves and to have the leisure time to partake of their benefits.
The full article continues here…
Plus, For other information on hot tubs, follow our Twitter posts of today's date.