Archive for the 'Garden pots' Category
September 27th, 2013
By Jennifer Larocque
Link:
http://www.drummondhouseplans.com
Filed under:
Accessories
,
Backyard
,
Botanicals
,
color
,
Contemporary House Plans
,
Country Style Homes
,
Curb Appeal
,
Declutter
,
Do it yourself
,
Garden pots
,
Horticulture
,
Inspiration
,
Landscape Design
,
Modern decor
,
Natural products
,
Playhouse Plans
,
practical tips
,
Shed Plans
,
terrace
You like the look and feel of nature…how about a green fence cloaked in ivy or a cedar hedge or other kind of shrub like lilac. You can even opt for imitation if the idea of having year round greenery along the property line,  that requires little or no maintenance, appeals to you.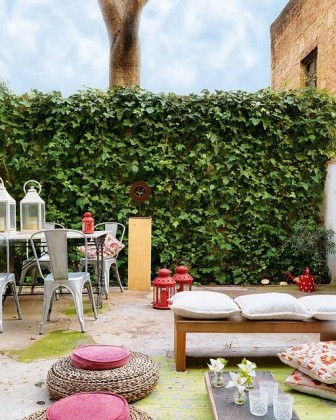 An urban fence
If your outdoor furniture tends towards clean, modern lines then this may be the style for you. In keeping with a modern or Asian inspired style of home, this panel type fence which uses either tempered glass or plastic, allows light through while ensuring privacy. For a special touch, why not add footlights from the base of the trees or other focal points in your yard…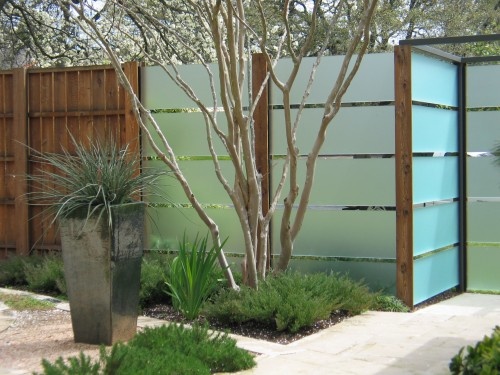 Cool contemporary!

The ever popular trend towards contemporary in architecture and interior design inspires the wood panel enclosure which complements this style of home. Drummond House Plans offers a complete collection of contemporary designs.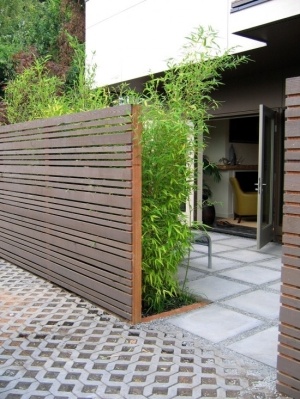 Wood paneling
Here is another place for a unique wood fence that enhances the look of an urban or contemporary design. The suspended lights above the table are a wonderful touch that does not break the bank!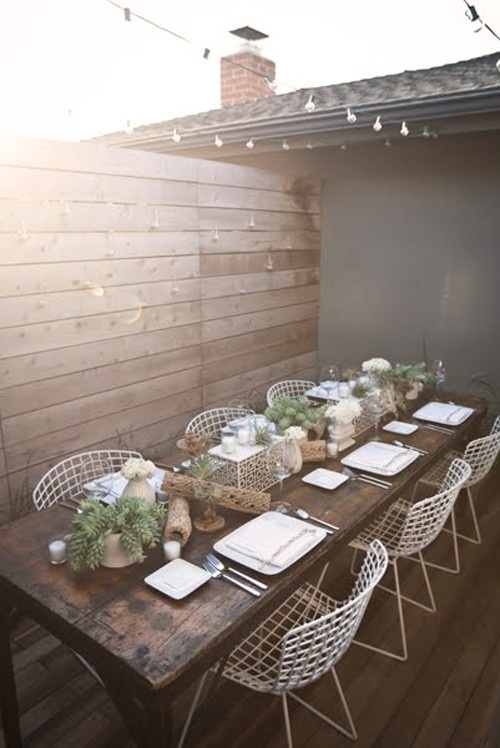 Zen, in more ways than one!
The peaceful atmosphere of this serene environment is enhanced by the noise blocking capacity of this stonework fence that blends in perfectly with its surroundings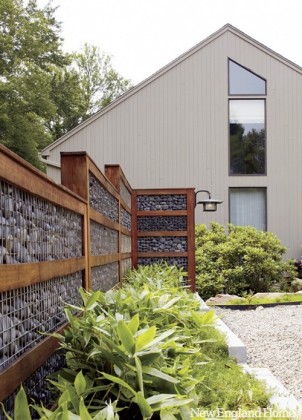 A 'natural' fence may be an option
If your yard opens out to a natural space, why not keep it simple with a rustic style of pine or barn wood enclosure that is perfect for framing the property without the feeling of restraint that a higher fence imprts. This kind of fence is perfect for a ranch or farm style home.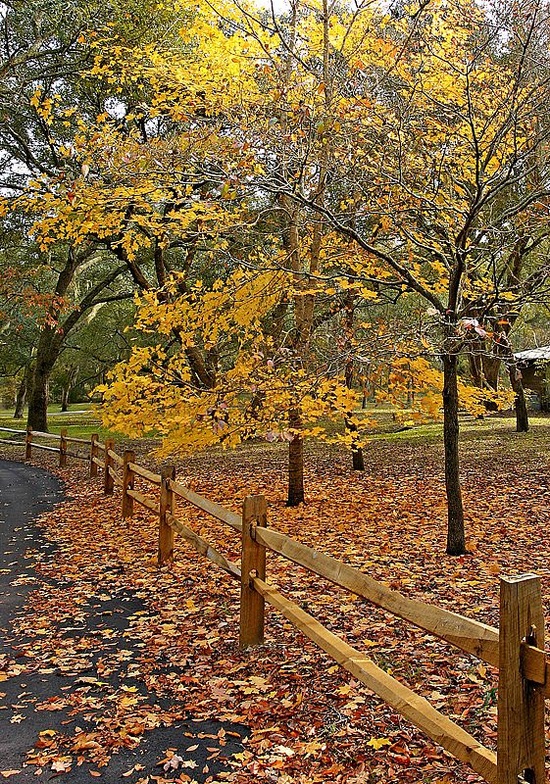 Decorative pots as fencing
To 'dress' a traditional fence all you need are some large size containers with a variety of interesting plants in different colors. By placing these flower (natural or artificial) pots along the length of your fence you will enhance the look and can change it so fit the season if desired.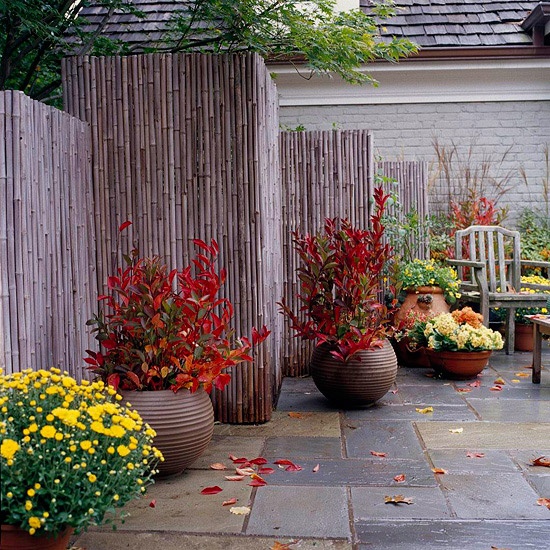 A statement in black!
Black is a neutral color with luxurious connotation. Black fits well with natural elements, has a calming effect and a contemporary feel so experiment with it to create your unique environment.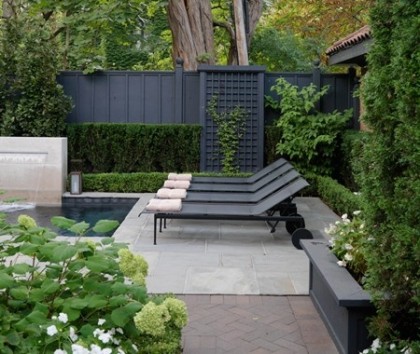 Don't limit yourself to traditional lattice, go deco!
Instead of the ever popular lattice work that is so common, why not use original wood panels as fencing and decoration to separate spaces or as structures on which your clematis can climb.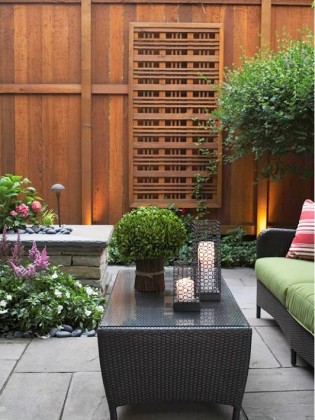 And why not add a personal touch…
What if, instead of that boring wood fence, you were to add color by painting the lats, a change that costs little but is sure to have an enormous impact!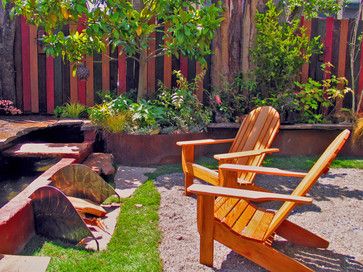 and how about a beautiful shed or playhouse to complete your space
August 16th, 2011
By Vivian Martin
I thing everyone had a mudpie experience as a child. The technique of making hypertufa will stir your memories of this experience or be a great project to do with your children's or grandchildren's help.
For those who are not familiar, hypertufa is a man-made substitute for natural tufa (a slowly precipitated limestone rock). As it is very porous, it is favorable for plant growth.
With hypertufa, you can release your inner sculptor and create garden ornaments, pots, troughs, mimic alpine garden worn stone… it is limited only by your artistic sense! As added benefits, it is lighter than concrete and able to withstand harsh winters (at least down to -30 °C (−22 °F). I was at a garden show demo a number of years back and have been meaning to try this. Today, I came across a great article from Fine Gardening complete with recipe and instructions.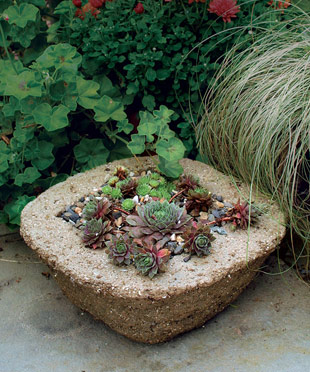 Containers made from hypertufa are wonderful for displaying rock-garden plants or succulents. Over time, the hypertufa ages gracefully, collecting a patina of mosses and lichens. In this article you will find the recipe and instructions for making hypertufa.
The process I use to mold containers is much simpler that the usual box-in-box method that sandwiches hypertufa and some metal mesh in a frame. Instead, I simply pack hypertufa around an overturned plastic pot or planter. And because it's so easy to work with, hypertufa can be molded into many sizes and shapes. 
Read the original Fine Gardening article and full recipe here…
Don't forget to share pictures of your projects. We would love to share!