Archive for the 'Combustion' Category
January 6th, 2011
By Vivian Martin
With Canadians spending more than 90% of their time indoors, much of it at home, the "healthiness" of their home is a serious issue. Poor indoor air can have a detrimental impact on people's well-being, from a general sense of feeling tired or "under the weather" to contributing to, or even triggering, allergies and asthma.
   
A home's air is affected by many things: off-gassing from building materials, finishes and furniture; excessive moisture leading to mold growth; improper ventilation, and incomplete combustion in heating systems. Our daily activities also have a big impact-moisture from cooking, bathing and laundering; off-gassing from household cleaners; hair, dander and litter dust from pets and even emissions from equipment in a home office.
Today's new homes are built to give you the best possible indoor environment—a comfortable, enjoyable home with clean fresh air, a comfortable moisture level, and no molds or lingering odours.
Construction and design

Good indoor air quality begins with solid construction that prevents air leakage and moisture penetration. Eliminating dampness and cold spots not only increases comfort, but also prevents mold growth. Exterior walls are well insulated with air barriers, vapour retarders and careful caulking. Energy-efficient windows help to prevent condensation. Open and spacious layouts promote good air movement throughout the home.
Ventilation

Mechanical ventilation is built into every new home, using exhaust fans to get rid of stale or excess moist air generated in the course of everyday living. Many new homes come with a heat recovery ventilator (HRV), which is a whole-house system that continuously brings in fresh air from the outside to all living areas of your home and exhausts the stale air. To make sure the system is not simply bringing in problems from the outside, the incoming air is filtered. It is also pre-heated by the outgoing air to save energy—this is the "heat recovery" part of the system.
Heating and cooling systems

In a brand new home, systems are selected and installed to safeguard homeowner comfort and the freshness of the indoor air. Energy-efficient heating and cooling systems operate cleanly and safely, drawing combustion air directly from the outside and venting exhaust gasses separately to avoid any risk of noxious fumes inside the home.
Building materials

By choosing the right building materials, builders can reduce the amount of pollutants or contaminants introduced into the home during construction. These include non-solvent-based glues and grouts, water-based paints, formaldehyde-free cabinetry and pre-finished hardwood flooring.
Finishing products

Many products are also chosen for their long-term effect on the indoor air. For instance, ceramic and other hard-surface flooring doesn't trap dust and mites. Cabinets, countertops and sinks are easy to clean with mild, non-toxic cleaning agents.
When you begin with the right home, it is easy to maintain a healthy indoor living environment. For additional information, check Canada Mortgage and Housing Corporation's Healthy Housing™ initiative.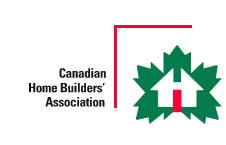 November 18th, 2010
By Vivian Martin
Tend to your chimney with care with these pointers.
Enjoying a warm, cozy fire requires a clean, safe fireplace. Here are some tips for keeping it that way:    
Fireplaces should not be used as furnaces. Use a fireplace for a short-duration fire — no longer than five hours.
Keep the glass open to allow air to be drawn up to cool the chimney, but keep the screen closed to prevent sparks from jumping onto the carpeting.
Never leave a fire unattended when children are in the house. Adults, even if near, should not allow children to play near or with fire tools and equipment.
Open a window when using the fireplace to prevent the room from becoming smoky. The air coming in from the window will go up the chimney.
Before making a fire, open the glass doors, pull aside the screen curtains, and place the kindling, newspaper and logs inside. Next, open the damper and a window. The window needs to be open only a few inches. You can check to make sure the smoke will go up the chimney properly by lighting a match, quickly blowing it out and watching the smoke to see whether it's going up and out.
Keep a nonflammable rug (available at fireplace-supply stores) in front of the fireplace so that sparks won't melt or otherwise damage your carpeting.
Use fireplace tools to handle burning logs. Never use your hands.
Use a chimney cap to prevent water damage, to keep animals from nesting and to keep debris from blocking the chimney and causing carbon monoxide to flow into the house. Use a spark arrester to help prevent sparks from flying out, which could start a fire on the roof or grass.
Glass doors may produce tough stains from flames and heat. To clean them, make sure the glass doors are cool and then scrape off any thick gunk deposits with a razor blade. Add a squirt of liquid dishwashing detergent to a bucket of warm water, or add a cup of vinegar to a gallon of water. Spray or sponge the cleaner on, and then wipe it away with newspaper (which is lint-free). Another option is to buy glass cleaner at a fireplace store.
Fireplace coals can remain hot enough to start a fire up to three days, so always wait at least that long before removing the ashes. At that point, open the damper so that the airborne ash will be drawn up the chimney instead of into the room. Be sure to wear a dust mask and open a window in the same room as the fireplace to prevent negative air pressure. Use a shovel to scoop the ashes into a metal container. Store the container far from combustibles, combustible surfaces and wood floors.
Never use a vacuum to clean up ashes, because live coals may remain in those ashes.
Have a certified chimney sweep inspect and clean the chimney when necessary. Have him show you how to check it yourself, too. The chimney should be checked at least once a year or after about 80 fires.
Shine brass fireplace utensils with Worcestershire sauce and a toothbrush.
Clean the firebox (the area where the logs burn) at least once a week during the months you use it, when ash builds up. Leave about an inch of ash because it acts as insulation, allowing the coals to heat faster and retain the heat easier. Keep the firebox completely clean during the months when the fireplace is not in use.
To clean an exterior slate hearth, wash, dry and coat it with lemon oil every six weeks to make it shine. For cleaning exterior brick hearths, buy a brick cleaner at a fireplace shop.
 Source: HGTV
November 15th, 2007
By André Fauteux
The Canadian Council of Environment Ministers has planned for 2005 a national ban of the sale of non-certified wood-burning appliances for their weak particle emissions.  Specialists and consumers alike have been demanding a ban since 1990.  But there is a snag :  the ministries' lawyers discovered too late that the present laws do not give this power to the legislator.  << We will propose an amendment to the Protection of the Environment law from now to the end of the year, but it could take four or five years before it comes into effect >> Alain Gosselin, team leader for Atmospheric Stakes for Québec at Environment Canada.  << I'm a bit discouraged when I talk about it. >>  In 1990, the United States imposed certified EPA 1990 wood stoves and fireplaces, which emit only 2 to 4 grams of particles per hour compared to 30-40 gr. /hr for conventional models.  These appliances cost around $300 more but their more complete combustion reduces the amount of wood burned.  British Columbia is the only province to do the same, by imposing an equivalent Canadian norm, CSA B415.
 In 2000, a committee of experts recommended Environnement Québec follow suit, but changing the law keeps being delayed.  << It is always a priority and we will attempt to act more rapidly (than Ottawa) while harmonizing with the Federal, >> says the chief of service of Atmospheric Quality at Environnement Québec, Raynald Brulotte.  << We must satisfy the new Canadian standard for fine particles, which will be applicable in 2010>>.
But, for the assistant deputy-minister of the same ministry, this is not a high priority. << This would not have such a conclusive effect on the environment >>, said Pierre Baril in a telephone interview.  << The regulatory approach is not always the method which has the most impact.  We prefer a combination of education and economic incentives.>>  Decision which was denounced by Dr. Louis Drouin, responsible for environmental health at Montréal-Center Public Health Center.  << I am surprised and deceived that Québec doesn't act more rapidly, taking into account that we surpass the Canadian standards for breathable particles in the air about 15% of the time in winter.  For us Montrealers, this is a priority.>>
Effects on Health

As well as emitting cancer-causing pollutants in exterior air and often also in homes, according to Environment Canada, residential heating with wood generates half the fine particles coming from human activities, even more than all transport sectors.  As they penetrate deeply into the lungs, this invisible dust can provoque asthma attacks, cardiac problems and depress the immune system.
<< We do not encourage combustion with wood and we downright discourage it in urban and suburban centers as houses there are closer together >>, explains Alain Gosselin.
He wishes that people will heat in a more responsible manner, for example by burning only very dry wood.  Moreover, he hopes that all elected council officials imitate their American colleagues, who impose casting out old wood-burning stoves when a house is sold, or those of certain cities in British Columbia who forbid use of a non-certified appliance during smoggy winter days.