Archive for February, 2009
February 15th, 2009
By Marie-France Roger
Drummond House Plans, a house design firm specializing in residential architecture since 1973, recently created a collection of multigenerational house plans, for multi-generational, bi generational or extended families.
Are you thinking of inviting the grand-parents (baby-boomers!) to share a new house with your family, and want to make sure they have their own private areas?  Do you have young adult children moving back home to save money and want to offer them (and you!), private spaces?  Are you a blended family with many children in need of extra bedrooms and more than one kitchen and /or family rooms?
The Multigenerational Drummond house designs and floor plans are designed as one home containing two separate units.  The main unit is generally larger, offering three and even four bedrooms to accomodate a young family with children, while the other unit offers all the comforts of a full apartment with one bedroom, a kitchen, dining and living rooms, as well as a full bathroom and laundry facilities.  For security purposes, both units are usually accessible to one another from inside the home, but both have their own individual / independant access to and from the outside.
Multigenerational homes & multigenerational floor plans
I'd like to share with you three of my favorite multigenerational homes (or bi generational, what is your favorite word for it?)  Each one caters to the various styles and sizes required by you.  These three beautiful homes all offer large units for the family including very well organized apartments for the grand-parents!  All within the same house!  Which ones are your favorites?  Have a look at all of Drummond's multigenerational house plan collection and send me your feedback!
Drummond Multigenerational Floor Plan no. 2821: Beautiful 2-storey Spanish / Florida Style, offering a one-bedroom apartment on one side (on the first level), and a large  3-bedroom home on the other side (for the family) with two private balconies on the second level!
Drummond Multigenerational Affordable House Plans 2278:  Charming and Affordable Bungalow Style House Plan, offering on the same level (on the same floor!) a one-bedroom apartment, and a well designed 3-bedroom house.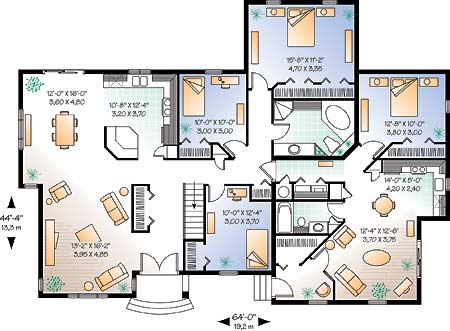 Multigenerational Designs Plan 3039: Spectacular (and yet affordable) Traditional House Plan Style, on two-levels, offering the grand-parents suite on the first level, and the large 4-bedroom unit on two-levels.
These multigenerational house designs are offered in many styles and sizes and can be order easily online or by phone: 1-800-567-5267.  All house plans in the Drummond House Plans collection, including any design from the multigenerational house plan collection,  can easily be modified to suit your needs by using the Drummond online house plan modification /customization service, to make sure they answer all your needs.
I'd also like to recommend a great site I found, that has an article on "How to function in a multigenerational household".  It is one thing to build a house and another to learn to all live together!
Drummond House Plans' design team is planning on creating more multigenerational and multi-family house plans, so any comments or suggestions are welcome!
February 3rd, 2009
By Marie-France Roger
February 2nd, 2009
By Marie-France Roger
In these times where good news may sometimes be a rare thing to hear, I would like to take this opportunity to share with you some very exciting news regarding the Drummond House Plans' customer service team.
Last week, at the International Builder Show  in Las Vegas,  Drummond House Plans was honoured by receiving the Best Customer Service award among all the designers represented by Hanley Wood / House Plan Division.
Drummond House Plans stood out amongst many other very popular & important architectural firms in the US, such as House Plan Gallery, Don Gardner, Sater Designs, Frank Betz Associates, Nelson Design Group, and many others and for this, we are particularly proud!
In this industry where competition is of the utmost importance, top quality house plans, professionalism, efficiency and prompt responses to our publishers & customers, make the difference between winning or losing a sale!
Congratulations to our team for a job well done, I am very proud of us all!
And a big thank you to Hanley-wood for the award & for doing a terrific job at promoting our designs! 
So now, Hanley-wood, how can we get more exposures?